This Spa Set is perfect for pampering yourself and if you use an organic yarn you'll  end up with a premium looking set that makes a highly appreciated gift. The Set contains the patterns for: a puff shower, facial pads, facial scrubbies, a headband and a washcloth. And at the end of the article you will find how I make my handmade coffee-sugar scrub. This set works up quickly and easily, which is great if you need last minute gift items!
I've used almost 100 g or 380 m/ 415 yards) cotton and a 2,5 mm hook, use your favorite cotton/bamboo yarn and the hook is indicated on the label.
Here you'll find the perfect yarn for this project. I recommend you to use 100% cotton yarn, I'm sure here you'll find your favorite color and brand. Don't forget to choose your country in order to see the prices in your currency, click the photo for the on line yarn store.
Abbreviations:
ch= chain;
sc= single crochet;
dc= double crochet.
Crochet Shower Puff:
Round 1: make a magic ring and crochet 10 sc; (leave a long tail, and at the end, crochet chains with it for the handle).
Round 2: start with 2ch ( count like a "dc") and  3dc in the same sc of previous round,  then continue with 4 dc in every sc of previous round;
Round 3: start with 2ch ( count like a "dc") and 3 dc in the same dc of previous round, then continue with 4 dc in every dc of previous round;
Round 4:  start with 2ch ( count like a "dc") and 2 dc in the same dc of previous round, then continue with 3 dc in every dc of previous round;
Round 5: start with 2ch, then make 1dc in every dc of previous round;
Round 6:repeat round 5.
These shower puffs take a lot of stitches to make the puffy texture, far too many to count at the end of the rounds. If you ask if I've counted the stitches: yes I did! At the end of every single round just to be sure because off course I count every single stitch as I go, but this is my little obsession! Don't worry, it is very forgiving if you accidentally add or miss a stitch here or there this pattern permits it, unless you are obsessed like me.
Facial scrubbies and pads:  
For my set I've made 3 scrubbies and 3 pads. These scrubbies and pads are great for cleansing your face and you can wash them after every use. You can wash them by hand or in the washing machine in a cloth sack.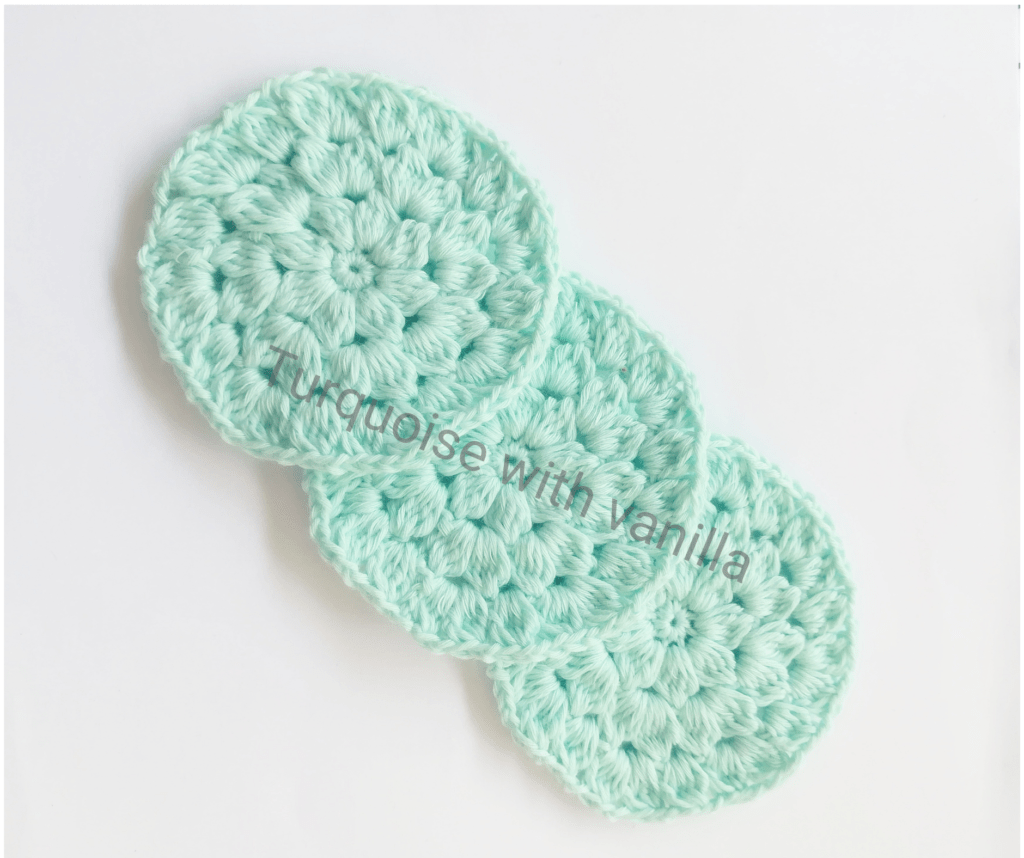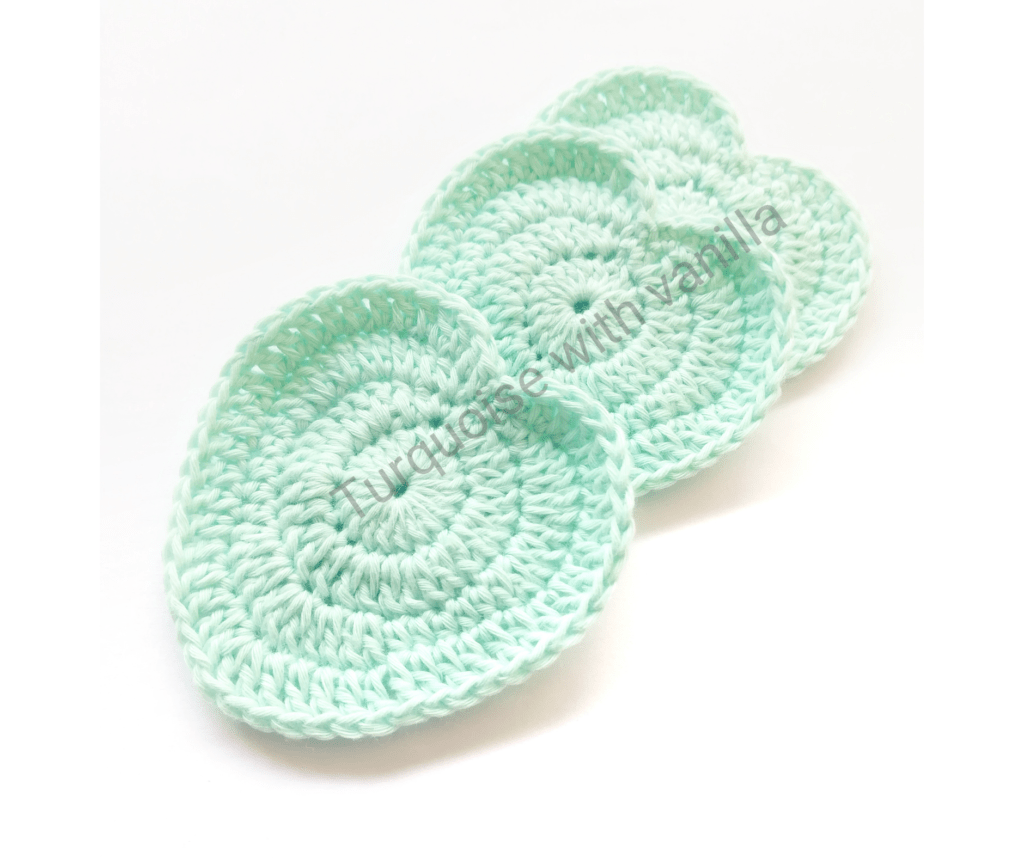 Headband:
The headband is perfect when you use your scrub, and it looks beautiful too.
As you can see on the chart, you have to repeat the first 4 rows until you reach the length you need. The last 10 rows are made from double crochet (12 of them every row- I count 2ch from the beginning of the rows as a dc).
Washcloth:
Is a 26 cm/ 10 inches square, but you can make it as large as you want, even larger enough to be a towel if you wish. Is perfect to use it before and after you use the scrub.
Homemade Coffee Sugar Scrub:
1 cup ground coffee;
1/2 cup brown sugar;
1/4 cup baking soda;
Bio coconut oil.
Combine all the ingredients in a small bowl, add coconut oil until everything's evenly incorporated. Transfer to an airtight container and keep in a cool place.
Before you first use it, apply a very amount on your skin and check for a reaction to make sure you aren't allergic to anything in the scrub. Wet the desired area and apply the scrub and gently massage into skin in circular motions. You can leave on your skin for a few minutes then wash away. You'll notice the difference after the first use: the skin it will be softer and brighter. After you use this scrub, you can use your usual micellar water. I use this scrub all over my body not just for the face and it is amazing!
I hope you'll have a beautiful spa day.
I can't wait to see your photos with your projects, you can use the hashtag #turquoisewithvanilla or #turcoazcuvanilie on Instagram and Facebook