The Waffle stitch wash/dishcloth is perfect for every day use. At the beginning this stitch may seem a little bit difficult, but actually is very easy, just be patient and you'll see how beautiful it is and I'm sure you will enjoy this project.
For my Waffle stitch wash/dishcloth I've used 50 g cotton  and a 4 mm hook.
For this project I recommend this yarn:
Superior quality cotton made from 100% organic cotton, natural and antibacterial. Here you can buy this yarn: http://bit.ly/2NarNhk
Here you can find your favorite color: http://bit.ly/2Lenuzi
If you like to support my work as a crochet designer and support me to provide more free patterns and designs, buy me a cup of coffee:


Abbreviations:
The pattern uses US crochet terminology.
ch= chain;
dc= double crochet;
fpdc= front post double crochet.
Pattern Instructions:
Make an even number of chains.
The chart for the Alpine stitch: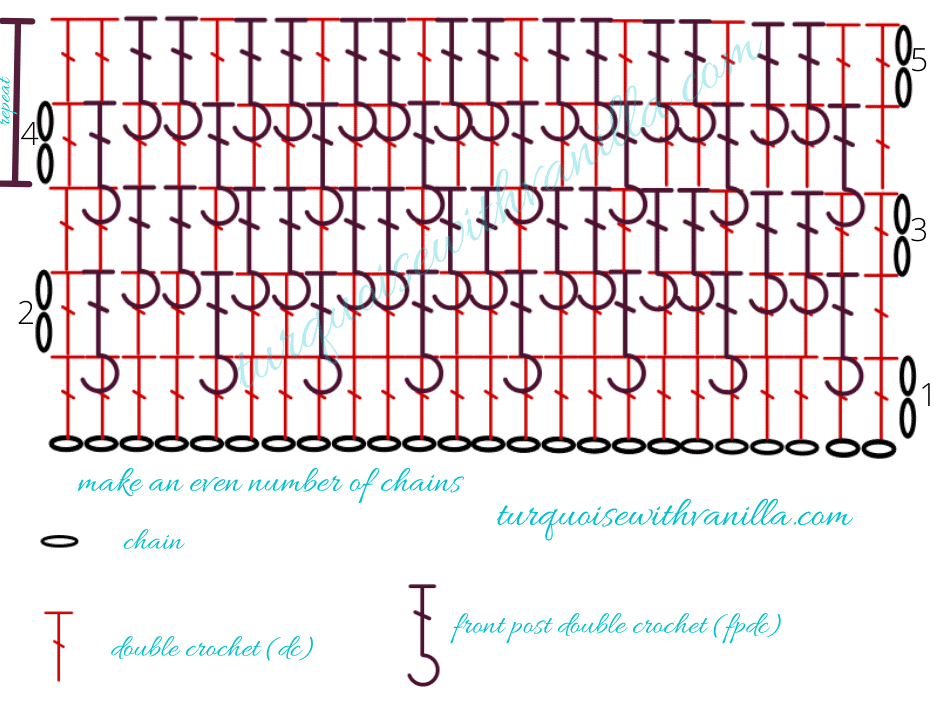 This is the video tutorial, just hit "play" to see how this stitch it's done:
The written instructions:
1. Row 1: dc in 3 rd ch from the hook, dc until the end of the row;
2. Row 2: 2 ch, 1 dc, *1 fpdc, 2 dc*, repeat *-*, 1 fpdc, 1 dc;
3. Row 3: 2 ch, 2 dc, *2 fpdc, 1 dc*, repeat *-*, 1 dc;
Make sure that where you have a double crochet on the previous row to make a front post double crochet and where you have a front post double crochet you will make a double crochet.
Repeat the pattern from row 2 until you reach the desire dimension.
After you finish the Waffle Stitch crochet a sc around the cloth.
For my wash/dishcloth I've started with 62 ch and I've crocheted the Alpine stitch for 28 rows. Don't forget to make the round of sc at the end.
My wash/dishcloth has 23 cm (9 inch) length and 21 cm (8.5 inch) width.
Here are my others free pattern for wash/dishcloth:
1. Alpine stitch wash/dishcloth;
2. Star stitch wash/dishcloth.
I hope you enjoyed this project and I can't wait to see your photos with this project, feel free to tag me when you share your crochet Star stitch wash/dishcloth on Instagram or Facebook, or you can use the hashtag #turquoisewithvanilla
Follow my Facebook and Instagram pages to see my current projects.
And Subscribe to my YouTube channel for my video tutorials:  https://www.youtube.com/channel/UCUpzoP-RDaJV1_2kvJMh5QQ/videos
*Some links may be affiliate links which will allow me to make a small commission on any products purchased through my recommendation, this way, you help me sustain my work and help to provide free content. Please note that this does not influence my opinion or recommendations in any way.
Copyright 2020 Turquoise with vanilla. All right reserved. This pattern is property of Julia Bleau @Turquoisewithvanilla. Please DO NOT sell the pattern and claim this pattern as your own. The pattern is for personal use only and may not be translated or reproduced in another language. Please respect my rights, DO NOT share or publish this pattern anywhere without my permission. You can sell the items made with this pattern but please credit Turquoise with vanilla as the designer.