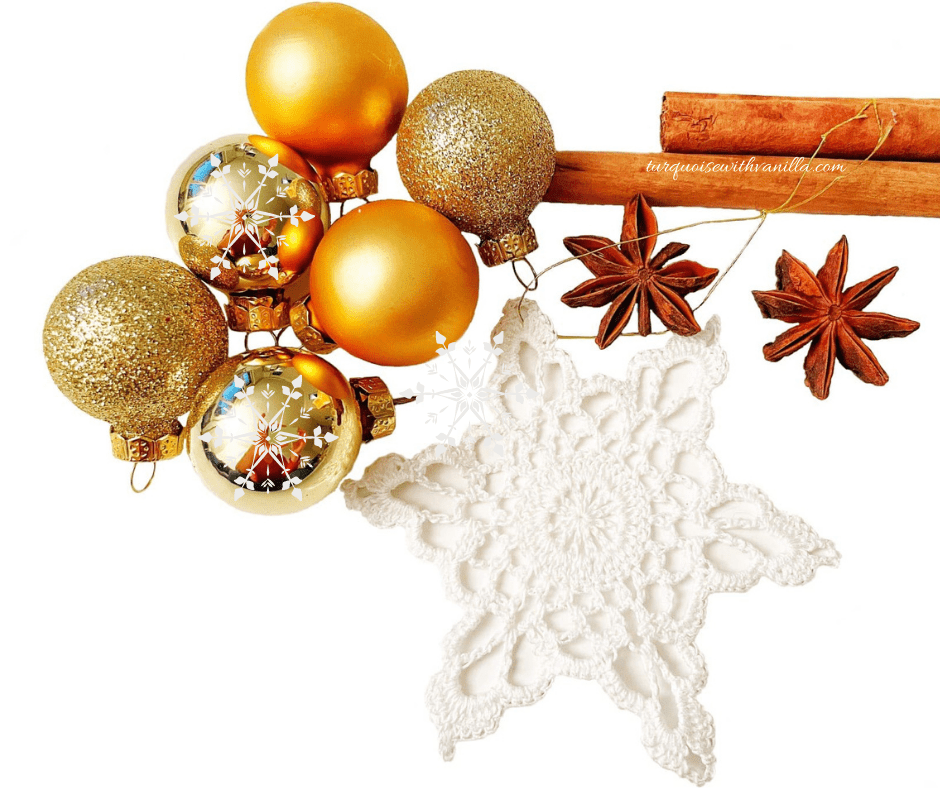 This easy to crochet snowflake is perfect if you are a beginner and you want to crochet your own Christmas Tree decorations. It's a beautiful and delicate snowflake and looks great in any color you like. Bring some winter magic into your house and decorate your interior with these beautiful snowflakes.
Every year in December I'm crocheting snowflakes for all of my friends in the colors they choose for the decoration of the Christmas Tree. This is one of my favorite things to crochet in winter.
I love white snowflakes and I think they bring a very cozy atmosphere when it's cold and snowy outside, and you are safe and warm at home. They will look magical on a Christmas tree, or as a festive table decoration.
This pattern only uses simple stitches: single crochet, double crochet, and treble crochet so if you know how to make these stitches you won't have problems crocheting this beautiful snowflake.
For this easy crochet snowflake, I've used the Daphne Cotton yarn ( 5 g for each snowflake) (50g= 282m/ 1.76oz= 308 yards) and a 1.75 mm hook.
The Daphne cotton yarn is a great mercerized cotton yarn of the highest quality perfect for projects on thin hooks. This yarn has a fantastic color intensity as mercerized yarn absorbs color better. In addition, the glossy surface gives the colors an exceptional depth. The yarn is especially suitable for crocheting lace, tablecloths, placemats, fine crochet decorations, and much more.
Here you can buy this great yarn: http://bit.ly/3e8hULU
If you like to support my work as a crochet designer and support me to provide more free patterns and designs, buy me a cup of coffee:


The pattern for easy crochet snowflakes:
The Video Tutorial:
The chart and the written pattern:
Abbreviations:
The pattern uses US crochet terminology.
ch= chain;
st= stitch;
sl st= slip stitch;
sc= single crochet;
dc= double crochet;
tc= treble crochet;
Start with a magic ring (if you can't make a magic ring crochet 6 ch and close the ring with a sl st and start to crochet round 1).
Round 1:
4 ch, *dc, 2 ch*, repeat *-* 11 times, finish the round with a sl st;
Round 2:
2 ch (count as a dc), *2 dc in next "2 ch" space of the previous round, dc in the dc of previous round*, Repeat *-* until the end of the round, finish the round with a sl st;
Round 3:
Ch, sc, *3 ch, skip 1 dc and crochet a sc*, repeat *-* 17 times, ch, 1 hdc in first sc of the round;
Round 4:
Ch, sc in the hdc of the previous round, *5 ch, sc in next "3ch" space of the previous round*, repeat *-* 17 times; 2 ch, dc in first sc of the round;
Round 5:
Ch, sc in dc of the previous round; *in next "5 ch" space: (dc, 5 ch, tc, 5 ch, tc, 5 ch, dc); sc in next "5 ch" space, 5 ch, sc in next "5 ch" space*, repeat *-* until the end of the round;
Round 6:
Sl st to go to the *next "5 ch" space and crochet 6 sc; in next "5 ch" space: (sc, hdc, 4 dc, 5ch, 4 dc, hdc, sc); in next 2 "5 ch" space crochet 6 sc for each space*, repeat *-* until the end of the round, finish with a sl, st.
For the handle, I've used golden strings bought with my Christmas tree ornaments.
Here you can find the patterns for my  other snowflakes:
2. Collection of 15 snowflakes charts;
I hope you enjoyed this project and I can't wait to see your photos with this easy to crochet snowflake, feel free to tag me when you share your snowflakes on Instagram or Facebook, or you can use the hashtag #turquoisewithvanilla. 
Follow my Facebook and Instagram pages to see my current projects.
And Subscribe to my YouTube channel for my video tutorials:  https://www.youtube.com/channel/UCUpzoP-RDaJV1_2kvJMh5QQ/videos
*Some links may be affiliate links which will allow me to make a small commission on any products purchased through my recommendation, this way, you help me sustain my work and help to provide free content. Please note that this does not influence my opinion or recommendations in any way.
Copyright 2020 Turquoise with vanilla. All right reserved. This pattern and photographs of items on this site are the property of Julia Bleau @Turquoisewithvanilla. Please DO NOT sell the pattern and claim this pattern as your own. The pattern is for personal use only and may not be translated or reproduced in another language. Please respect my rights, DO NOT share or publish this pattern anywhere without my permission. You can sell the items made with this pattern but please credit Turquoise with vanilla as the designer.