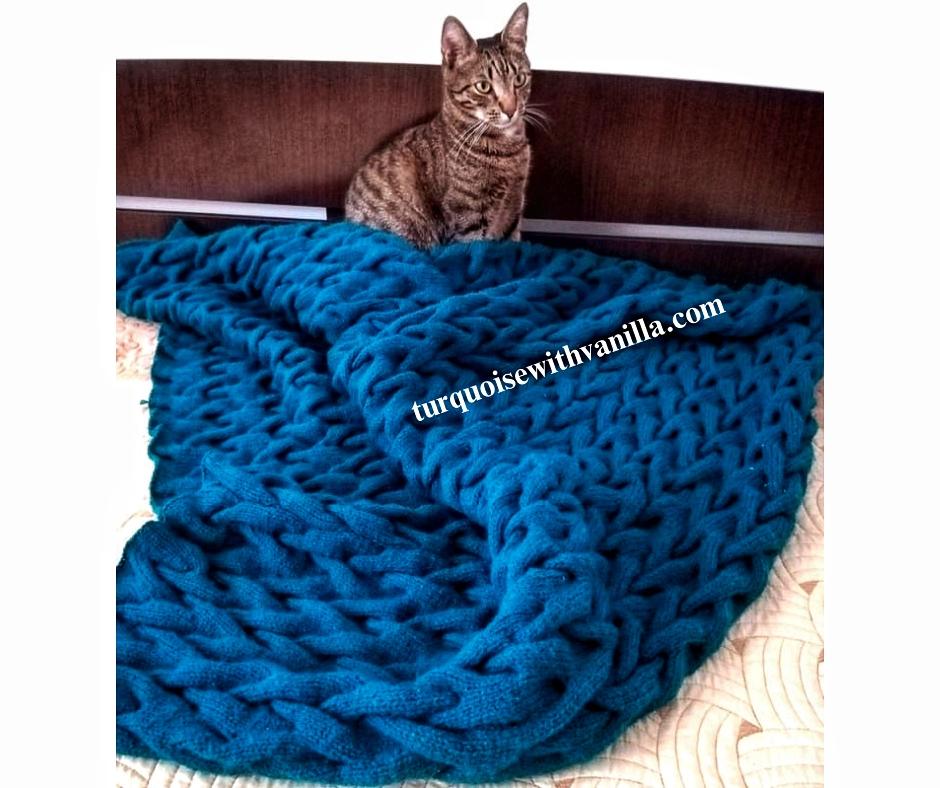 In the world of knitting, there's nothing quite as satisfying as creating a warm and inviting blanket with a touch of texture and charm. The Landscape Cable Throw is the perfect embodiment of simplicity and style making it an ideal project for both experienced knitters and those just beginning to explore the world of yarn and needles.
At the heart of this project is the appeal of an easy-to-follow pattern designed for knitters of all skill levels. The beauty of this blanket is that it strikes the perfect balance between simplicity and sophistication, providing a canvas for creativity while ensuring a stress-free knitting experience. Whether you're a beginner looking for your first cable project or an experienced knitter looking for a quick and fun project, this blanket is the ideal solution. If you are a beginner don't make this project your first big project until you practice the cable stitch first.
The textured pattern of the Landscape Cable Throw adds depth and visual interest to the finished product. The incorporation of cable stitches creates a three-dimensional quality that transforms an otherwise ordinary blanket into a tactile masterpiece. The rhythmic repetition of the cable pattern not only enhances the aesthetic appeal but also adds a cozy warmth that makes this throw perfect for snuggling up on chilly evenings.
One of the most appealing features of the Landscape Cable Throw is its quick and easy pattern. The free pattern for the Landscape Cable Throw includes written instructions, a chart, and a video tutorial for the cable stitch. The joy of quickly completing a beautiful and functional blanket is not only gratifying but also makes this project an excellent choice for last-minute gifts or home decor updates.
Its classic design and textured details make it a timeless addition to any living space. Whether draped over the back of a sofa, spread across a bed, or folded neatly in a reading nook, this cable throw adds a handcrafted charm to any room. The choice of yarn colors also allows knitters to customize the throw to match existing decor or add a pop of color to a neutral space.
In conclusion, the Landscape Cable Throw embodies the essence of a fulfilling knitting project, textured, quick, and easy to knit. Its versatility as a home decor piece and the joy of creating a personalized gift makes it a popular choice for loved ones. So, pick up your needles, choose your favorite color, and embark on a journey to knit a cozy masterpiece that will be cherished for years to come.
For my Landscape Cable Throw, I've used 2.4 kg Atlas Bulky, (24 x 100g; 100g= 130m/ 3.53 oz/ 142 yards), a 6 mm circular needle (100 cm long), and a cable needle. 
This yarn is a really soft yarn with great airy volume, suitable for crochet and knitting projects. It is made from 100% high-quality acrylic and comes in a beautiful selection of colors. Whether you knit or crochet with this yarn, the stitches will stand out nicely and clearly. If you are allergic to wool, or just don't want to use animal fibers, you can substitute this great acrylic yarn for a soft and lovely result. The soft yarn is great for many creative, colorful projects. It definitely does not scratch and is comfortable to work with and wear on the body. You can purchase this great yarn HERE.
Abbreviations:
k= knit; 
p= purl; 
sl st= slip stitch; 
st= stitch; 
sts= stitches. 
Buy me a cup of coffee if you want to support my work as a crochet and knitting designer and help me to provide more free patterns and designs:

Printable version for purchase HERE:
The final size of the Landscape Cable Throw is 132 cm/ 52 inches wide and 168 cm/66 inches long. 
The gauge: 22 stitches x 24 rows/ 10 cm (4 inches). 
With 100g you will knit 7 cm (18 rows), so if you want your throw to be shorter or longer, use more or less 100g skeins.
The written pattern for the Landscape Cable Throw:
The chart:
The written instructions:
Start with 287 sts (multiple of 15 sts plus 2). 
1. Row 1, 3, 5 and 7: purl; 
2. Row 2, 4, 6: knit;  
3. Row 8: sl st, *transfer 5 stitches on the cable needle and hold it in front, k 5 from the main needle, k 5 from the cable needle, k 5*. Repeat *-*; k1; 
4. Row 9, 11, 13, 15: purl; 
5. Row 10, 12, 14: knit;  
6. Row 16: sl st, *k5, transfer 5 stitches on the cable needle and hold it in back, k5 from the main needle, k5 from cable needle*. Repeat *-*; k 1; 
Repeat the pattern from row 1 until you have the desired length.
Here are my other free patterns for crocheted lapghans/blankets/ baby blankets:
I recommend washing the throw by hand or in the washing machine at 40 degrees maximum. I prefer 20 degrees for all my knits. Dry flat or tumble dry on a cool setting. The blanket will smell and look better.
I hope you enjoyed making the Landscape Cable Throw. I can't wait to see what colors you choose for your knitted Landscape Cable Throw. Also, feel free to tag me when you share your project on Instagram or Facebook or you can use the hashtag #turquoisewithvanilla.
Follow my Facebook and Instagram pages to see my current projects.
Please also subscribe to my YouTube channel for my video tutorials: https://www.youtube.com/channel/UCUpzoP-RDaJV1_2kvJMh5QQ/videos
*Some links may be affiliate links, allowing me to earn a small commission on products purchased as a result of my recommendation. Please note that this does not influence my opinions or recommendations in any way.
Copyright 2023 Turquoise with Vanilla. All rights reserved. This pattern and photos of items on this site are the property of Julia Bleau @Turquoisewithvanilla. Please do not sell or claim this pattern as your own. The pattern is for personal use only and may not be translated or reproduced in another language. So please respect my rights and DO NOT share or publish this pattern anywhere without my permission. You can sell the items made with this pattern, but please credit Turquoise with vanilla as the designer.