Last winter I've fell in love with the Alpine stitch so I've decided to learn how to crochet it.
It's definitely not a stitch for total beginners, but if you've got some patience and understand basic stitches, you should definitely give it a try. Always is a good idea to learn a new stitch and the Alpine stitch is a great one to know how to crochet it.
I just love the texture of this stitch, it's so rich and elegant and I think that works very well for cardigans, sweaters, baby blankets, fall jackets, cushion covers, or just for a border on your next project.
The crochet Alpine stitch looks good with any yarn you decide to use but the most I like how it looks with a lace/sock yarn, but it looks great with a thicker one too.
Finally yesterday I've succeeded to make the video tutorial and the chart so it will be easier to learn how to crochet it. If is the first time when you try this stitch it would be better to watch the video tutorial too before you start to crochet the Alpine stitch. And if you are able to learn the symbols, so you can read charts too, it will change your life!
If you like to support my work, buy me a cup of coffee:


Abbreviations:
ch= chain;
sc= single crochet;
dc= double crochet;
fpdc= front post double crochet.
The pattern uses US crochet terminology.
The  pattern for the Crochet Alpine stitch:
The chart:
Make an even number of chains.
This is the video tutorial, just hit "play" to see how this stitch it's done.
The written instructions for the Alpine stitch:
1. Row 1:
2ch, 1 dc in 3rd chain of the hook, continue with dc until the end of the row.
2. Row 2:
1ch, sc in each stitch.
3. Row 3:
2ch, 1 fpdc in first dc of the row 1; 1dc, *1fpdc, 1dc*; repeat *-*;
4. Row 4:
1ch, sc in each stitch of previous row.
5. Row 5:
2ch; *1dc, 1 fpdc*; repeat *-*;
Make sure that where you have a double crochet on the previous row to make a front post double crochet and where you have a front post double crochet you will make a double crochet.
Repeat the pattern from row 2. Tie off and weave in ends.
At the beginning this pattern may seem a little bit difficult, but actually is very easy, just be patient and you'll see how beautiful it is and I'm sure you will enjoy it.
Here is the wash/dishcloth I've crocheted with this stitch: https://turquoisewithvanilla.com/2020/06/11/how-to-crochet-an-alpine-stitch-washcloth-dishcloth/
I hope you enjoyed to learn to crochet this stitch and I can't wait to see your photos with the project made with this stitch, feel free to tag me when you share your project on Instagram or Facebook, or you can use the hashtag #turquoisewithvanilla. 
Follow my Facebook and Instagram pages to see my current projects.
And Subscribe to my YouTube channel for my video tutorials:  https://www.youtube.com/channel/UCUpzoP-RDaJV1_2kvJMh5QQ/videos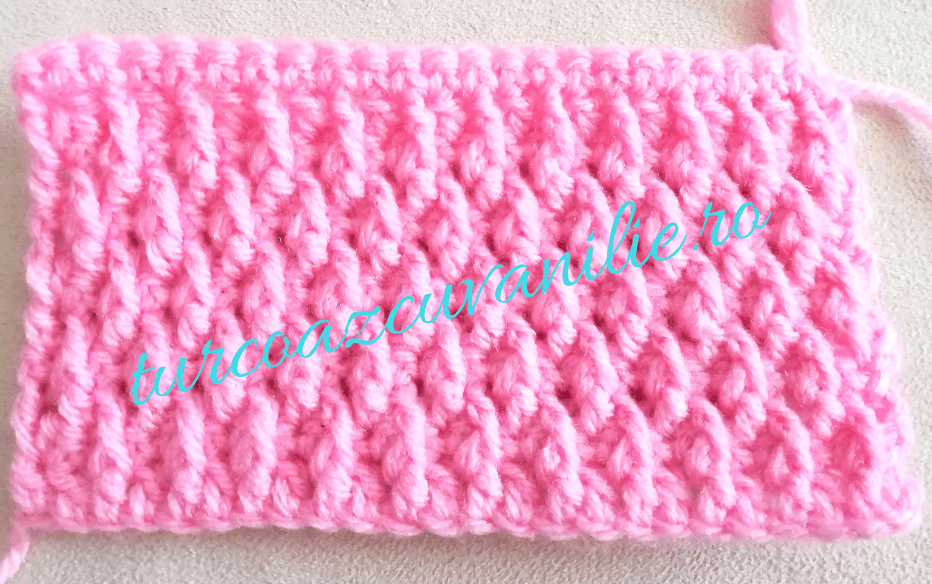 *Some links may be affiliate links which will allow me to make a small commission on any products purchased through my recommendation. Please note that this does not influence my opinion or recommendations in any way.
Copyright 2020 Turquoise with vanilla. All right reserved. This pattern is property of Julia Bleau @Turquoisewithvanilla. Please DO NOT sell the pattern and claim this pattern as your own. The pattern is for personal use only and may not be translated or reproduced in another language. Please respect my rights, DO NOT share or publish this pattern anywhere without my permission. You can sell the items made with this pattern but please credit Turquoise with vanilla as the designer.