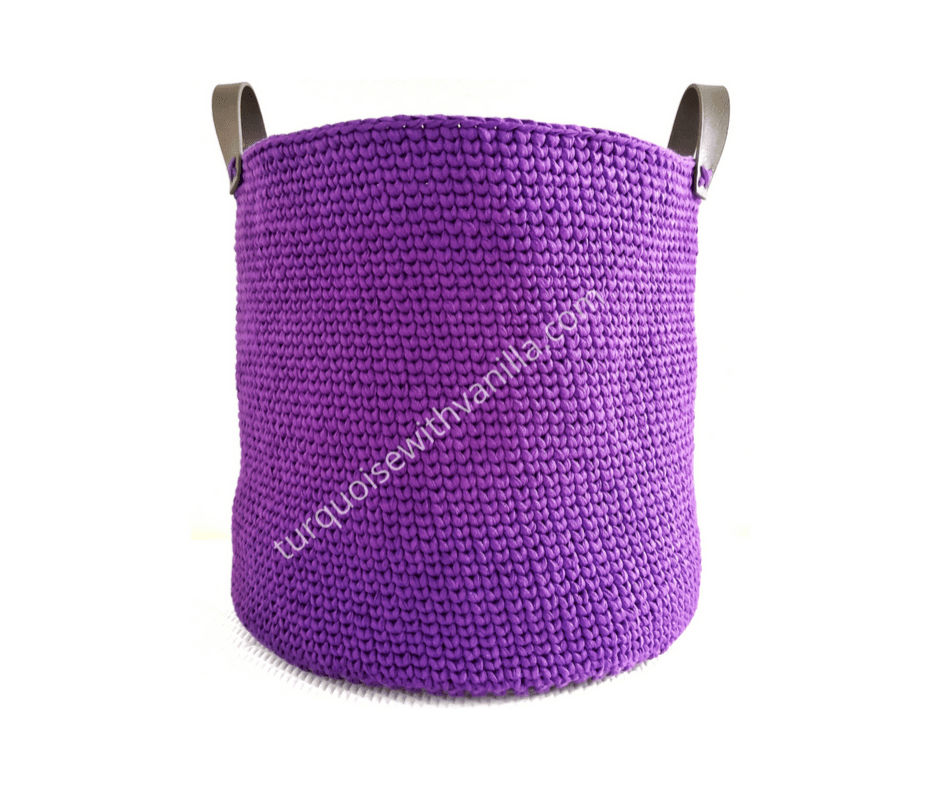 I love this crochet basket/bag, it can be used for your wips, to keep your yarns, or it can be used in children's room for their toys, or you can use it like a bag. You can make an entire collection in your favorite colors and different dimensions.
You will need:
Leather bottom (35 cm diameter) and straps (22 cm long):
If you don't have a leather bottom you can crochet the base. I'll put the chart in the bottom of the page.
4 skeins of ribbon yarn and 8 mm hook
A lovely ribbon yarn, 100% recycled cotton, very soft and very easy to crochet with it. The colors are bright and beautiful And the Price is GREAT! Here you can find your favorite color:
Abbreviations:
ch – chain
sc – single crochet
sl st – slip stitch
The pattern for the crochet basket/bag:
Crochet around the leather bottom: *sc, sc, sc, 2sc* repeat *-* until you finish the hols.
Round 1: Ch 1, sc in each sc of previous round, sl st to first sc to join;
Round 2: Ch 1, sc in between the posts of each sc, sl st to first sc to join.
Repeat round 2 until you reach the desired length.
Sew the leather straps.
If you like to support my work as a crochet designer, buy me a cup of coffee:

Tips for working the Crochet Knit Stitch:
Once you insert the hook in the correct place and yarn over, tip your hook up a bit to loosen the stitch, this will help you make the next stitch easier to work.
When slip stitching at the end of each round, pull the slip stitch quite tight, this will make the join nearly disappear.
The chart for the crochet bottom:
I can't wait to see your photos with this project, you can use the hashtag #turquoisewithvanilla or #turcoazcuvanilie on Instagram.
Follow my Facebook and Instagram pages to see my current projects.
And Subscribe to my YouTube channel for my video tutorials:  https://www.youtube.com/channel/UCUpzoP-RDaJV1_2kvJMh5QQ/videos