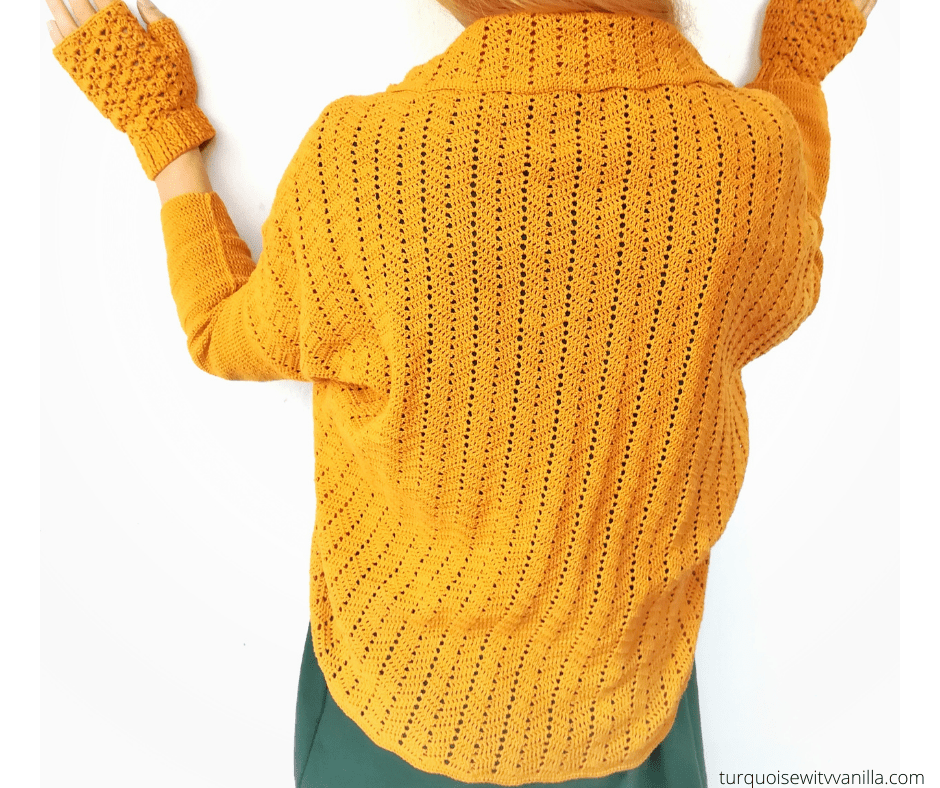 Today's free pattern it's a crochet chevron cocoon shrug cardigan that I've crocheted for my beautiful sister as a gift for her birthday.
I love the texture of the stitch and the wavy edges and I love the color my sister choose. The shape of this cardigan is super cool and is flattering on anyone. The best part about this crochet chevron cocoon shrug cardigan is that it's great for spring, summer and fall.
I love chevron stitch and I think this pattern it's perfect for a cardigan. This crochet chevron cocoon shrug cardigan is a fast and easy pattern to crochet. The pattern only uses double crochet stitch and single crochet stitch and is just one row repetition.
The shaping of this cardigan is minimal: you crochet a square for the body, sew it, and then crochet the sleeves directly onto the body. For the dimension of the square I'm using the bust circumference plus a few cm, my sister has 90 cm/ 35.5″ so the dimensions of the square was 94 cm in length and width. You are going to love making it and it will look very beautiful. It will be great for your basic wardrobe and if you choose a neutral color we will be able to wear it with almost every thing.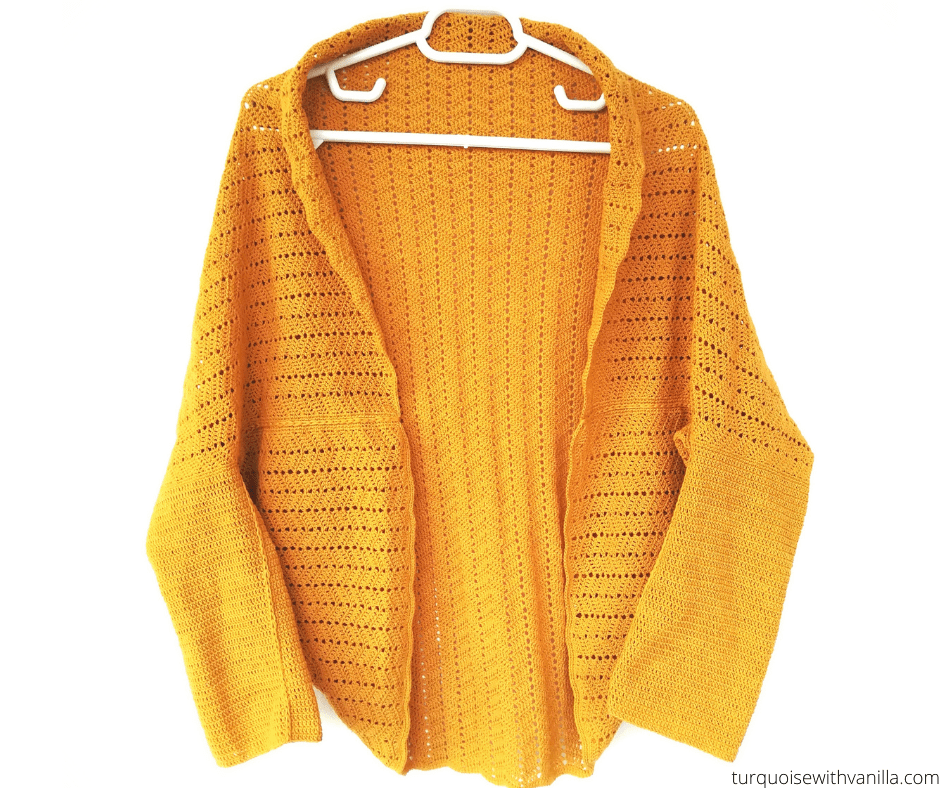 My sister wears this beautiful cardigan every morning on his way to work and almost every day she is admired and someone asks her from were she bought it and she is very proud to say "my sister made it".
Here is my boy taking over my project and me trying to have a serious discussion with him. I actually was saying to him he needs to get of the cardigan because I need to finish it in time for my sister birthday. Off course he ignored me, he likes to stay on my projects every time he has the occasion, so he doesn't care what I'm saying, he always does what he wants.
He loves to sleep on his back showing his big fat belly. My husband loves to tickle his belly and off course my boy hates it and he starts to bite his hand, with love off course. They are like two kids, playing and running all the time, they are so funny when they spend time together.
Skill level: Easy.
For the crochet chevron cocoon shrug cardigan you will need:
For my cardigan I've used 400g (55% cotton, 45% acrylic) yarn, and a 2 mm hook, scissors.
I recommend this yarn for this project:
This yarn is made of 55% cotton and 45% acrylic. This blend makes it a durable yarn and that is perfect for every day wearing. The color chart includes plenty of gorgeous colors, you just have to decide what color you like and get started. Here you can buy this yarn:
Choose your favorite color here: http://bit.ly/39GWgxf
If you like to support my work as a crochet designer and support me to provide more free patterns and designs, buy me a cup of coffee:

Abbreviations:
ch= chain;
sc= single crochet;
dc= double crochet.
The pattern uses US crochet terminology.
Pattern Instructions for the crochet chevron cocoon shrug cardigan:
The chart:
For this pattern you have to make multiple of 12 chain.
The written pattern:
Row 1: 3ch, 5dc, *skip 2 ch, 5dc, 2ch, 5dc*, repeat *-* in the last ch make 2 dc ;
Row 2: 3ch, 5dc starting with the 1st dc of the previous row, skip 2 dc of previous row, 5dc (the 5th dc in space of 2ch of the previous row), *2ch, 5dc (the 1st dc in space of 2ch of the previous row), skip 2 dc of previous row, 5dc starting with the 2nd dc from the hook of the previous row*, repeat *-*, in the last dc of previous row make 2dc;
Repeat row 2 to complete the pattern until you reach the desired length.
The wavy edge created by the pattern looks so beautiful so I decided to crochet a simple border, in this way I won't change the look of the edge: crochet 2 rounds of single crochet stitch.
Tie off and weave in the ends.
Now is time to assemble it:
1: Take the square that you just crocheted and put it on a flat surface.
2. Fold the square into half.
3. Sew the edges together, but leave a space for arms.
4. Crochet the sleeves in double crochet around the arm openings and crochet this way until you will reach the length you need (I've made 40 rounds).
Because I didn't like how the seemed edges looked like I've crocheted a slip stitch all the way down the sleeve on both sides.
Here is the free pattern for my other cocoon shrug cardigan:
https://turquoisewithvanilla.com/2018/09/20/cocoon-shrug-cardigan/
If you liked the hat and the mittens my sister wears in the photos here are the free pattern:
I hope you will enjoy making this cardigan and I can't wait to see what color you will choose. You can wear this cardigan on a walk, to the office, at school, on a date, on a movie night.
I can't wait to see your photos with this project, you can use the hashtag #turquoisewithvanilla or #turcoazcuvanilie on Instagram.
Follow my Facebook and Instagram pages to see my current projects.
And Subscribe to my YouTube channel for my video tutorials:  https://www.youtube.com/channel/UCUpzoP-RDaJV1_2kvJMh5QQ/videos
*Some links may be affiliate links which will allow me to make a small commission on any products purchased through my recommendation, this way, you help me sustain my work and help to provide free content. Please note that this does not influence my opinion or recommendations in any way.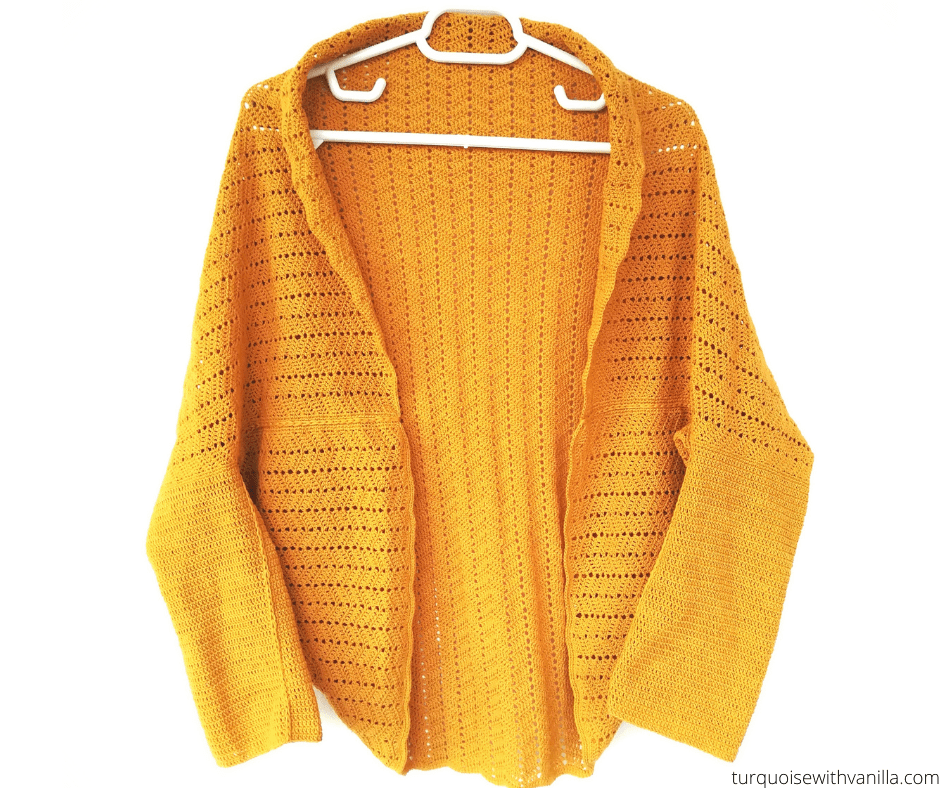 Copyright 2019 Turquoise with vanilla. All right reserved. This pattern and photographs of items on this site are the property of Julia Bleau @Turquoisewithvanilla. Please DO NOT sell the pattern and claim this pattern as your own. The pattern is for personal use only and may not be translated or reproduced in another language. Please respect my rights, DO NOT share or publish this pattern anywhere without my permission. You can sell the items made with this pattern but please credit Turquoise with vanilla as the designer.