The knit Dainty chevron stitch is a very easy and beautiful lace stitch to knit. If you're looking for how to knit a lace stitch pattern this stitch is perfect even if you are a beginner. You can use this fancy textured stitch that looks great for summer, autumn, or spring projects: summer cardigans, shawls, sweaters, tops, and baby blankets.
This is a beginner knitting pattern free, so if you only know how to knit the knit stitch and the purl stitch and you know how to decrease you'll be able to knit this lace stitch without problems. The Dainty chevron stitch is easy knitting for beginners and the perfect example of how simple stitches and basic techniques can make such a beautiful, chic, and elaborate finished piece that is hard to believe a beginner could knit.
So don't give up if it doesn't look good for the first time, or the second, we all have been there! Just take that needles and practice every day if you can and you'll become so good that even you won't believe it! You can do it and you can be good at it!
Abbreviations:
K= knit;
P= purl;
yo= yarn over;
ssk= slip, slip, knit;
k2tog= knit 2 together;
sl2tog k1 psso= slip 2 sts together, knit 1 stitch, pass 2 slipped stitches over;
St= stitch;
RS= right side;
WS= wrong side.
If you like to support my work as a crochet& knit designer and support me to provide more free patterns and designs, buy me a cup of coffee:


Materials used: Yarn: Pure cotton fine and 3.5 mm needles.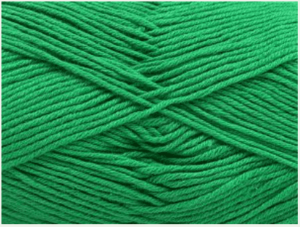 This is very high-quality cotton yarn.
This yarn is made from 100% combed Turkish cotton, which is soft, flexible, and exceptionally durable. Textiles in Turkish cotton stay beautiful for many years and only get softer with use. This yarn also excels when it comes to its absorbing powers, but is quick-drying at the same time.
The color chart includes plenty of gorgeous colors, you have to decide what color you like and get started. Here you can buy this yarn: http://bit.ly/3m9VQ6W
The written instruction for the Dainty chevron stitch:
Cast on multiple of 8 stitches plus 1:
1.Row 1 (RS): k1, *ssk, k1, yo, k1, yo, k1, k2tog, k1*, repeat *-* until the end of the row;
2. Row 2 and every WS row: purl all stitches;
3. Row 3: k1, *ssk, k1, yo, k1, yo, k1, k2tog, k1*, repeat *-* until the end of the row;
5. Row 5: k1, *yo, ssk, k3, k2tog, yo, k1*, repeat *-* until the end of the row;
7. Row 7: k1, *k1, yo, ssk, k1, k2tog, yo, k2*, repeat *-* until the end of the row;
9. Row 9: k1, *k2, yo, sl2tog k1 psso, yo, k3*, repeat *-* until the end of the row;
10. Row 10: purl.
Repeat the pattern from row 1.
The chart for the Dainty chevron stitch:
Here are my other free knitting patterns for beginners:
I hope you enjoyed the Dainty Chevron stitch and I can't wait to see your projects made with the Dainty Chevron stitch. Also, feel free to tag me when you share your project on Instagram or Facebook, or you can use the hashtag #turquoisewithvanilla. 
Follow my Facebook and Instagram pages to see my current projects.
Also please Subscribe to my YouTube channel for my video tutorials:  https://www.youtube.com/channel/UCUpzoP-RDaJV1_2kvJMh5QQ/videos
*Some links may be affiliate links, allowing me to make a small commission on any products purchased through my recommendation. Please note that this does not influence my opinion or recommendations in any way.
Copyright 2022 Turquoise with vanilla. All right reserved. This pattern and photographs of items on this site are property of Julia Bleau @Turquoisewithvanilla. Also, please DO NOT sell the pattern and claim this pattern as your own. The pattern is for personal use only and may not be translated or reproduced in another language. So please respect my rights, DO NOT share or publish this pattern anywhere without my permission. You can sell the items made with this pattern but please credit Turquoise with vanilla as the designer.