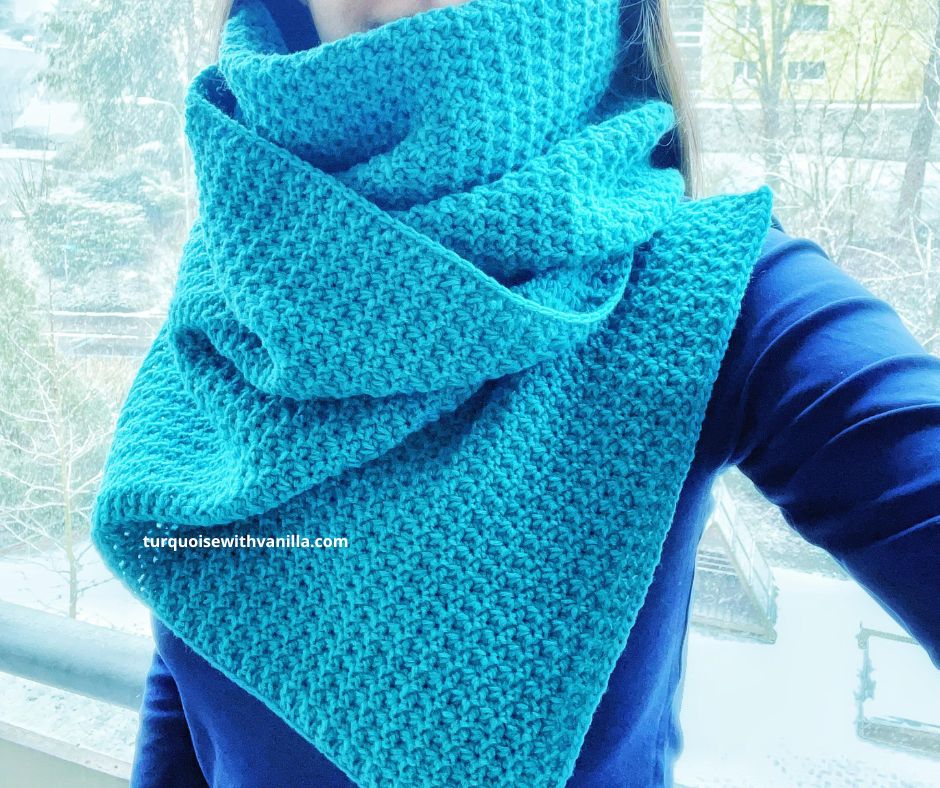 Today we had the first snow of this year and it was so beautiful! I stayed on my balcony with this gorgeous crochet Trinity scarf around my neck and a hot coffee and watch those big and fluffy snowflakes dancing in the air.
It was such a beautiful day and I enjoyed it so much, mostly because last winter we didn't have any snow. And I love snowy winters! And now we have plenty of it!
The crochet Trinity scarf is a fast and easy pattern to crochet so you are going to love making and wearing it! You're going to want to wrap yourself in this cozy and textured crochet Trinity scarf the moment you're finished with it. Also, this modern design only uses one simple stitch: single crochet so is perfect if you are a beginner. Without a doubt, this is the perfect chic accessory for this winter.
The crochet Trinity scarf is the perfect example of how simple stitches and basic techniques can make such a beautiful, chic, and elaborate finished piece that is hard to believe a beginner could crochet. This project is perfect for a beginner not only because it's easy to crochet it but because after you'll see it finished you will have the feeling that you're crochet skills are improving and you can really do this!
So don't give up if it doesn't look good the first time, or the second, we all have been there! Just take that hook and practice every day if you can and you'll become so good that even you won't believe it! You can do it and you can be good at it!
The color turquoise (my favorite color) worked beautifully for this design, but I can imagine it in any of the other 26 colors of this wonderful yarn palette. Crochet Trinity scarf can be worn in a multitude of ways. My favorite way to wear this scarf is around my neck or as the city slicker knot which looks very cool with my winter coat. Most important having this scarf in several different colors will keep you covered for literally any outfit! I'm pretty sure all of my friends will want one when they will see mine.
You can wear the crochet Trinity scarf wrapped around your neck. Or you can make a City Slicker Knot: fold the scarf in half lengthwise and wrap it around your neck, then pull the loose ends through the loop that was created by the fold.
Skill level: Easy
Materials:
For my scarf, I've used 300 g of this Norsk Fine,(100= 375m/ 3.53= 410 yards) 5.5 mm hook and a 5 mm hook for the edge, Tapestry Needle; Scissors.
Norsk Fine is an exclusive quality composite of 45% alpaca, 25%wool, and 30% polyamide. The combination results in the yarn being incredibly soft and airy.
The combination of wool and polyamide makes the yarn both light and warm, perfect for accessories like mittens and scarves.
This wool blend feels so wonderfully soft that you don't want to put it down. This yarn is premium quality and very soft.
For my scarf, I've used the turquoise color: http://bit.ly/393Hz87
Here you can find your favorite color: http://bit.ly/3qgNSuS
Abbreviations:
ch= chain;
st= stitch;
3 sc tog= 3 single crochet together;
hdc= half double crochet;
The pattern uses US crochet terminology.
The final size of the Trinity crochet scarf: is 33 cm/ 13  inches- long and 185 cm/73 inches- wide.
If you like to support my work as a crochet designer and support me to provide more free patterns and designs, buy me a cup of coffee:



The  pattern for the crochet Trinity Scarf:
The video tutorial for the stitch of the crochet Trinity scarf:
The chart for the stitch of the crochet Trinity scarf:
The written instructions for the crochet Trinity scarf:
Start with 72 chains (if you want this scarf to be wider start with an even number of chains).
ROW 1:
In the 2nd chain from the hook crochet a hdc, *3 sc tog ( the 1st sc in the same ch as the previous st, then 2nd sc in the next ch, and the 3rd in the next ch), ch*. Repeat *-* until the end of the row. After you make the last 3 sc tog don't crochet a ch instead crochet a hdc in the same ch as the 3rd sc of the last 3 sc tog.
ROW 2:
Ch 1, hdc in first st, *3 sc tog ( the 1st sc in the same st as the previous, the 2nd sc in the next st, and the 3rd in the next st), ch*. Repeat *-* until the end of the row. After you make the last 3 sc tog don't crochet a ch instead crochet a hdc in the same st as the 3rd sc of the last 3 sc tog.
Repeat row 2 until you reach the desired dimension, my scarf is 185 cm (almost 73″) long and 33 cm (almost 13″) in width.
For the edge, I've crocheted one row of single crochet with a 5 mm hook because I wanted to keep the look of this scarf very simple and this border is perfect for that.
Tie off and weave in the ends.
Here is a list of my other free patterns for scarves:
I hope you enjoyed this project and I can't wait to see your photos with this crochet Trinity scarf. So feel free to tag me when you share your scarf on Instagram or Facebook, or you can use the hashtag #turquoisewithvanilla. 
Follow my Facebook and Instagram pages to see my current projects.
Given that please Subscribe to my YouTube channel for my video tutorials:  https://www.youtube.com/channel/UCUpzoP-RDaJV1_2kvJMh5QQ/videos
*Some links may be affiliate links, allowing me to make a small commission on any products purchased through my recommendation. Please note that this does not influence my opinion or recommendations in any way.
Copyright 2020 Turquoise with vanilla. All right reserved. This pattern and photographs are the property of Julia Bleau @Turquoisewithvanilla. Also please DO NOT sell the pattern and claim this pattern as your own. The pattern is for personal use only and may not be translated or reproduced in another language. Please respect my rights, and DO NOT share or publish this pattern anywhere without my permission. You can sell the items made with this pattern but please credit Turquoise with vanilla as the designer.
Here is a photo of the forest near our house after a few days of heavy snow.